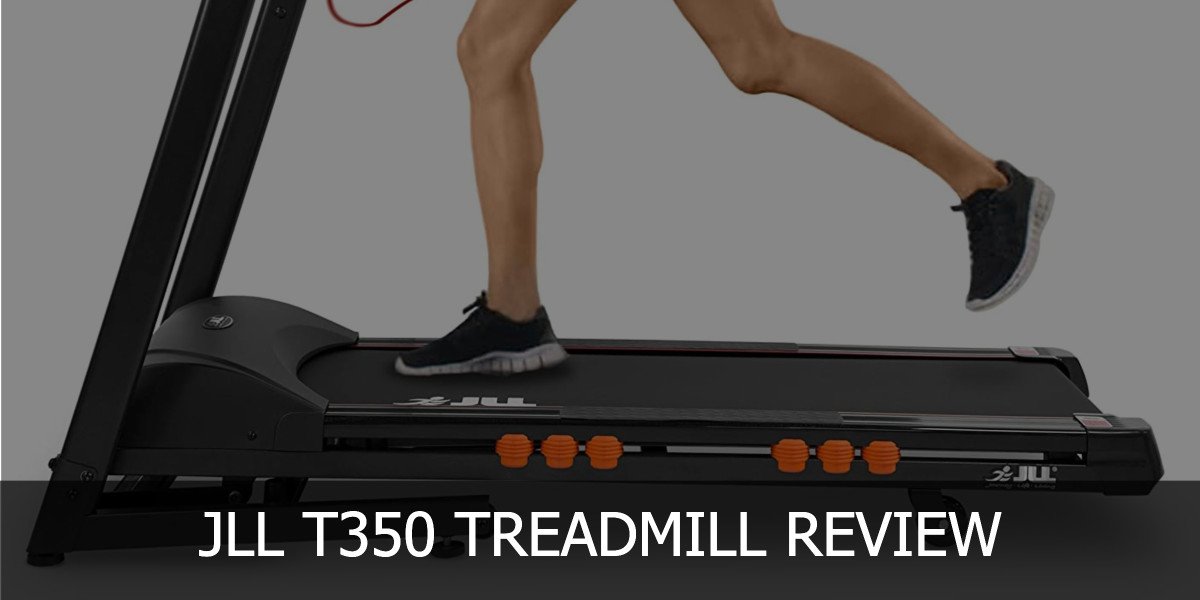 JLL Fitness have developed a great range of home cardio equipment over the last decade and the JLL T350 Treadmill is one of their flagship products. It sits firmly in the category of mid-tier in terms of its specs and also its price tag and therefore attracts attention from beginner and experienced athletes alike. Having heard some good (and some bad) things about this treadmill we decided to put it through the Fitness Brain testing and so we took it on for a month.
Find out the result below in our full JLL T350 review.
JLL T350 Treadmill Specs
The T350 treadmill from JLL is not the largest treadmill on the market – some will see this as a selling point whereas perhaps taller users will point to the limitations that this brings. The reality is that although this unit doesn't take up a huge amount of floor space it still has a relatively decent sized running belt.
Let's dive in to the dimensions.
The first thing to point out is that the T350 is very much made with space saving in mind. To this end, it is a foldable treadmill that when fully folded will only take up 82cm (l) x 70cm (w) of floor space. When folded it stands at a height of 146cm. When being used in its unfolded state, the T350 sits at 158cm (l) x 70cm (w) x 128cm (h) – which is smaller than the JTX Sprint 3 (which is a good benchmark to compare this treadmill to as it has a very similar price point).
The running track measures up at 121cm (l) x 41cm (w) which most users will find more than ample. One area that folding treadmills tend to fall down in is the maximum user weight but the T350 stacks up well in this regard with a top weight of 120kg for anyone using it – that's just under 19 stone in old money which isn't too shabby. Again, this matches the Sprint 3 toe to toe with this spec.
The T350 treadmill has a top speed of 18km/h, 20 levels of mechanically controlled incline and also has 20 pre-set programmes to work from. The running track is powered by a 4.5HP motor which performs well, even under top strain. This machine features a 16 point suspension system which offers an experience that goes easy on the joints – although unfortunately there is no way to turn this off if you want a firmer run which some road runners might prefer.
One area that the T350 excels is the usability of the display and its connectivity. It benefits from bluetooth, USB and AUX connections and has built in speakers so you can enjoy your favourite videos/music or follow along to one of the plethora of fitness apps or YouTube channels for added motivation. The display itself is basic (with a 5″ LCD display to show lots of the key data you would expect) but the controls around it are easy to navigate and plentiful giving lots of options and quick select buttons to make your workout seamless.
The treadmill is easy to fold away and even easier to unfold with a soft-drop hydraulic system that prevents damage to the machine or to yourself. For a foldable treadmill, this is really well built and feels as sturdy as any other folding model we have tested.
To top things off, the JLL T350 has a built in heart rate monitor with pulse rate detection on the handles and a safety clip with automatic shutdown to protect from accidents. There is a lifetime warranty on the frame, 5 year warranty on the motor and a 2 year parts and labour warranty on everything else – all very impressive.
Check Latest Price Of The JLL T350 Treadmill
JLL T350 In Use
Before we set off on using the T350 we had already read some online users reviews that were less than complimentary about it – but for every one negative review there were 10-15 good ones. So we went in to it with our eyes open and quite a sceptical head on. Despite this, on the whole, our experience of using the T350 was largely positive and the machine was on a par with others at its price range.
It doesn't have the largest running track, but it's by no means small – and it performs well at most tasks on a basic level.
So let's get in to the nitty gritty of this treadmill.
Setting up the JLL T350 is a fairly simple process and will take around 30-60 minutes to put together. The instructions provided are very clear and once this is done you are good to go. Everything about this treadmill feels very intuitive and for anyone who has used a commercial treadmill, there will be many similarities in terms of how you operate it. Of course, a folding machine like this cannot compete with a rigid commercial quality treadmill, but it more than holds its own and for domestic use the chances are the T350 will perform well and last for years to come – equipment suppliers don't tend to hand out long warranties unless they believe in their products!
For a folding unit, the T350 feels stable underfoot and the 16 point cushioned suspension provides a very comfortable run (or walk). It was a little bouncier to use than other models and this does take a little getting used to – particularly for anyone used to outdoor running – but it really does go easy on the legs and joints.
The top speed of 18km/h is ample for most users and when you throw in the 20 levels of incline, the top speed will likely suffice for even the most advanced of middle-long distance runners. The pre-set programs work well and the mechanical incline can be manually adjusted or set up as part of a program (with everything done automatically). Unfortunately, there is no way to extend this functionality with third-party apps and JLL cite safety as the reason for this – but the truth is that it's just a technological limitation of the software and hardware of the T350. That being said, this isn't a deal breaker and we'd rather have a treadmill that works well out of the box than one that has tricks and gimmicks but lacks the basics – and the T350 certainly isn't lacking.
The main frame of the T350 is particularly impressive and the large safety bars that protrude from the display area really feel like they give you plenty of security and stability when running at high speed. This is an area that most foldable treadmills tend to lack in and it's great to see on this model. The unit can also be easily moved around in the workout space thanks to transport wheels and as mentioned, folding and unfolding the base is very easy to do.
The 4.5HP motor alongside the 20 levels of mechanical incline perform well and offer a smooth run. Switching speeds is effortless and the machine does all the grunt work with smooth transitions from one speed to another. The controls are touch sensitive and do not feel like real buttons – this makes it easy to use and the beep provides feedback so you know you have made a selection – as well as it being displayed on the display panel.
All the data you need is displayed as you workout and when using programs you can work out within heart rate zones, tackle interval training and more.
The only real downside we would say that exists with this model is that the running track is not quite as long as something like the Sprint 3 from JTX and both are currently available at a very similar price. The T350 does have a slightly higher speed though and it is that fact alone that allows the T350 to appeal to more advanced runners – and it is just a matter of a few cm difference in running track length.
Check Latest Price Of The JLL T350 Treadmill
Verdict
The JLL T350 treadmill is not an all singing, all dancing model – and nor does it pretend to be. It does however get the basics right and has enough power (both in speed and incline) to appeal to advanced runners as well as being user friendly enough to get beginners on board.
We found the T350 to be a joy to use with a good range of pre-set programs as well as intuitive controls for manual runs. If you are happy with a cushioned run that goes easy on the joints then the T350 treadmill could be just right for you.